(-)-1- -(4-Chlorophenyl) Phenylmethyl Piperazine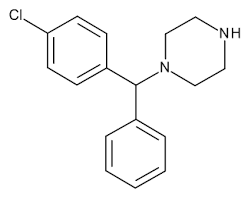 (-)-1- -(4-Chlorophenyl) Phenylmethyl Piperazine
Price And Quantity
Product Specifications
Room Temperature

Pharmaceutical Intermediates
Medicine Grade

As Pharmaceutical Purpose
Product Description
Being an illustrious firm in this domain, we are engaged in manufacturing and supplying a (-)-1-[-(4-Chlorophenyl) Phenylmethyl] Piperazine. This chemical is widely demanded in the market due to its chemical properties, high density and melting point. It is soluble in chloroform, methanol, water and dichloromethane. Apart from this, our offered (-)-1-[-(4-Chlorophenyl) Phenylmethyl] Piperazine is a metabolite of Cetirizine and Hydroxyzine.

Chloroiodomethane is an amalgamated liquid halomethane much soluble in benzene, diethyl ether, alcohol and acetone. Offered with a chemical formula CH2ClI as well as refractive index of 1.5812 - 1.5832, it is employed in aminomethylation, epoxidation, Mannich reaction, cyclopropanation (Simmon-Smith reaction), ring opening etc. It often regenerates diiodomethane on account of its higher yields as well as selectivity. Also, Chloroiodomethane is utilized as an intermediate substance in agrochemicals, pharmaceuticals, dyestuff and organic synthesis.

Technical Specification:

1) Molecular Weight: 286.80
2) Molecular Formula: C17H19ClN2
3) Physical State: Solid
4) Cas No : 300543-56-0

Application as Raw material for.

Raw Mateerial for Cetrizine and Levocetirizine Hcl.
Intermediates : (-)-1-[-(4-Chlorophenyl) Phenylmethyl] Piperazine
Cas No. : 300543-56-0
Application : Levocetirizine Hcl
Trade Information
Yes

Free samples are available