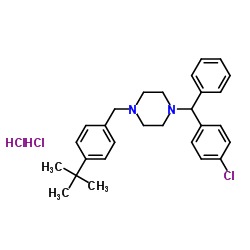 Buclizine Hydrochloride
Product Code : B001
Product Description
Buclizine Hydrochloride is an active intermediate which is used in the anticholinergic and antihistamine medicine, which is a derivative of the piperazine family. It is used for treating nausea, motion sickness, dizziness and vomiting along with some other conditions. Buclizine HCL helps in the improvement of patients' health by diminishing several functions that occur in the body which may include depressing labyrinthine and vestibular stimulation.

Cited below are some points that should be taken into consideration while using Buclizine Hydrochloride:

1) In order to avoid any side effects, one should inform doctor about his/her medical conditions such as upcoming or past surgeries, etc.
2) Should not be consumed while breast feeding, planning to have a baby or during pregnancy.
3) Do not miss the dosage or over dose the medicine, as it is completely based according to the persisting condition.
4) Follow all the instructions labeled on the product or as per directed by the consultant.