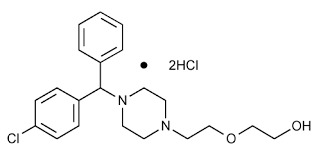 Hydroxyzine Hydrochloride
Product Code : H001
Product Description
Hydroxyzine Hydrochloride, which is an active ingredient that shelps in reducing the activity persisting in the central nervous system. Since, histamine can cause itching and hives on the skin, thus the mentioned compound helps in minimizing the effects occurred due to natural chemical histamine by working as anti histamine medication. Moreover, Hydroxyzine HCL used in the treatment of anxiety and tension that may lead to depression.

Applications:

1) When mixed with other pharmaceuticals, it can act as the medication given after providing or during anesthesia.
2) During emotional and psychiatric emergencies such as acute alcoholism.
3) To treat various allergies including contact dermatitis.

Dos and Don't:

Below mentioned are precautions that need to be kept in mind before using Hydroxyzine Hydrochloride:

1) Should be used for shorter duration (not more than four months) of time as longer duration may lead to adverse effects.
2) Patients possessing long QT syndrome, glaucoma, urination problems, heart diseases and many more must not use it.
3) Pregnant ladies and breast feeding mothers should avoid taking this medicine.
4) Should not be given to children without any medical advice.