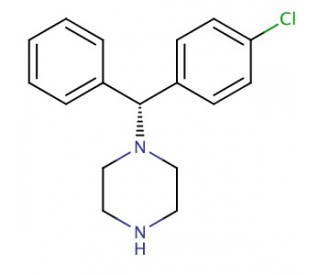 (R)-1-[(4-Chlorophenyl)phenylmethyl]piperazine
Product Code : P002
Product Description
The chemical formula and molecular weight of (R)-1-[(4-Chlorophenyl)phenylmethyl]piperazine are C17H19ClN2 and 286.80, respectively. It is available in solid form and appears to be off-white in color which is formulated under hygienic conditions so that it can fulfill various requirements of different industries. For effective usage, it should be stored at -20 degree Celsius.
Chemical Properties :
The melting point of aforementioned product ranges from 201 to 203 degree Celsius. It is highly soluble in methanol, DI-chloro-methane and chloroform.
Applications :
Acts as an intermediate for producing (R)-Cetirizine
Highly demanded in the preparation of aromatics, heterocycles, intermediates, chiral reagents, fine chemicals and many more.
Safety Precautions :
Cited below are some precautions that should always be kept in mind before handling the aforementioned compound:
Protective gloves and eye wear should always be worn while handling the mentioned chemical
Once done with the usage, hands and skin should be properly washed
Details :
CAS Number:

300543-56-0

Molecular Weight:

286.80

Molecular Formula:

C17H19ClN2