Levocetirizine Dihydrochloride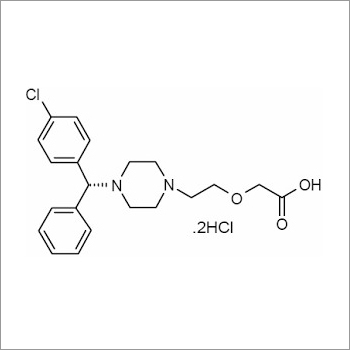 Levocetirizine Dihydrochloride
Price And Quantity
Product Specifications
Product Description
Hema Pharmaceuticals is a leading manufacturer and supplier of Levocetirizine Dihydrochloride that belongs to the group of medicates called antihistamines. It works by hindering the action of histamine, a particular substance in the body that causes allergic symptoms such as itching, running nose, sneezing and watery eyes. It is used for the treatment of seasonal as well as indoor (perennial) allergies and hives. It works by blocking natural substances (histamine), which is produced in the body during an allergic reaction. Levocetirizine Dihydrochloride is extremely beneficial for the treatment of symptoms of year-round (perennial) allergic reactions in adult and children who are 6 months old. It can be used in both forms of tablet and oral solution and is normally taken one time in a day.


Levocetirizine Dihydrochloride Specifications:
Molar Mass: 388.888 g/mol
CAS ID: 130018-77-8
Protein binding: 90%

Levocetirizine Dihydrochloride Advantages:

Highly effective
Relief from allergic symptoms
Tablet and oral solution
Safe and pure

Side Effects

Some common side effects of the medication include the following and are not an absolute database. Do ask the pharmacist or doctor for more information.

Sleepiness
Fatigue
Weakness
Sore throat
Dry mouth
Fever
Cough
Nosebleed
Trade Information
Yes

Free samples are available