Nebivolol Hydrochloride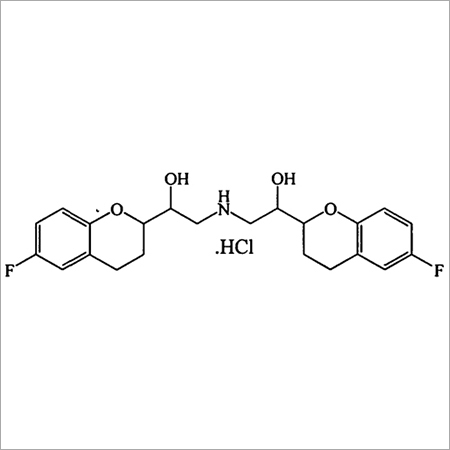 Nebivolol Hydrochloride
Price And Quantity
Product Specifications
99%

As Lowering High Blood Pressure
Product Description
Our offered Nebivolol Hydrochloride is of high quality and safe to consume. It is a cardio selective adrenergic beta-1 receptor resister (beta blocker), which suffices like a vasodilator. It blocks beta receptors in the heart, lungs and other organs of the body. It is used to treat high blood pressure; it assists in preventing strokes, kidney problems, and severe heart attacks and also used to treat hypertension.
This medicine lies to the class of medicates named as beta blockers and works by hindering the activity of certain natural substances in the body, such as epinephrine, on the blood vessels and heart. Owing to its properties such as precise pH value, effectiveness, purity and accurate composition, the offered product is highly demanded in the market.

Uses of Nebivolol Hydrochloride


This medicine is used to treat hypertension as well as chronic heart failure in aged patients, this beta blocker causes dilation of blood. It is primarily utilized for the management of hypertension (exclusively or in combination with some other classes of anti-hypertensive agents); it assists the patients with cardiovascular malady by blocking structures. It works by suppressing the activeness of specific proteins in the heart, liver, lungs, pancreas, and blood circulation system.

Application of Nebivolol Hydrochloride


Antihypertensive
Physical Properties and capability
It has a vasodilator action, nitric oxide (NO)-potentiality and vasodilator effect that works via the stimulation of 3 receptors
It is highly cardio selective
Has an antihypertensive effect and lowers the blood pressure (BP) by making reduction in the peripheral vascular resistance
Not cardio selective when used by patients with hereditary makeup

Side Effects

Bloating or swelling of the arms, face, feet, hands, lower legs
Chest pain or discomfort
Difficult or strained breathing
Dizziness, lightheadedness, fainting
Slow or unstable heartbeat
Tingling of feet and hands
Unusual tiredness, powerlessness
Odd weight gain or weight loss
Asthmatic
Trade Information
Yes

Free samples are available