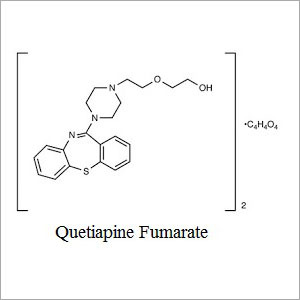 Quetiapine Fumarate
Product Code : Q-0001
Product Description
Cas Nos:
111974-72-2
Owing to our transparent business practices, we are betrothed in providing Quetiapine-Fumarate to the clients. By utilizing supreme grade chemical compounds and advanced methodology, this product is processed under the stern observation of our experienced professionals at our premises. Also, the offered product is checked on several quality parameters to eliminate health risks. This product is ideal to formulate medicines for treatment of schizophrenia, major depression and bipolar disorder. In addition to this, the provided Quetiapine-Fumarate can be bought from us at market leading prices in fixed time span.
Quetiapine Fumarate is functional as an anti-psychotic medicine that works by modifying the actions of chemicals founded in brain. It is useful for the treatment of schizophrenia in children & adults. Also, it is capable to cure bipolar disorder (manic depression) in children as well as adults who are at least 10 years old. This medicine is utilized to treat several mental/mood states (such as children, schizophrenia, or depression related to bipolar disorder). Quetiapine Fumarate is noted as a highly effective anti-psychotic medicate.

Features:

Balanced composition
Longer shelf life
Moisture proof packaging
High efficacy
Description and usages :
Quetiapine-fumarate is an atypical anti-psychotic that is utilized for the bipolar disorder, treatment of schizophrenia as well as various depressive disorders. This drug is utilized for the treatment of some mental/temper conditions (such as bipolar disorder, schizophrenia, abrupt episodes of mania or depression related to bipolar disorder). It is also known as an anti-psychotic medicate, which works by assisting to restore the balance of some particular natural substances (neurotransmitters), present in the brain. Quetiapine-fumarate may have adverse effects in the conditions of discontinuation, over-dosage, pregnancy and lactation.
Effectiveness and adverse effects :
Quetiapine is effective when utilized by itself and when taken along with other medicines in major depressive disorder (MDD). This is one of the most widely utilized medications that is used for the treatment of Parkinson's disease psychosis because of their reduced extrapyramidal side effect liability.
Some common side effects, which can occur are listed below :
Constipation
Drowsiness
Upset stomach
Tiredness
Weight gain
Blurred vision
Dy mouth
Dizziness or lightheadedness
Technical Specifications
Name :Quetiapine Fumarate
Cas No :

111974-72-2
Application
Anti-psychotic drug .