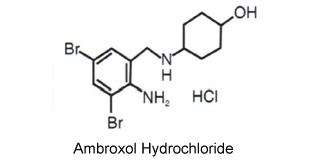 Ambroxol Hydrochloride
Product Code : A007
Product Description
We are counted amongst the foremost manufacturers and exporters of
Ambroxol Hydrochloride
. This type of hydrochloride is clinically proven systematically active mucolytic agent. These are widely used by our clients for the treatment of various ailments. Highly effective in nature and accurate in composition, this Ambroxol H

CL

is carefully formulated at our hygienic production unit. All the medically approved standards and norms are strictly followed during the formulation process. We offer this drug to our clients at economical prices.
Application:-
Used in the treatment of respiratory diseases
Description and usages :
Ambroxol Hydrochloride is a metabolite, which stimulates mucociliary activity and clears the air passages of respiratory tract. The medicine is usually taken as a hydrochloride and is indicated to relieve chest congestion related with conditions, which include bronchitis, bronchospasm, pneumonia and asthma. Offered medication is part of a grade of drugs known as mucolytics, which works by thinning the mucus of chest in affected patients. Ambroxol HCL is a secretolytic agent, which is used in the treatment of various respiratory diseases that are connected with viscid or inordinate mucus. Assisting the patient in abnormal mucus secretion as well as lessened mucus transport, Ambroxol HCL boosts mucus clearance, eases productive cough and facilitates expectoration, enabling the patients to respire freely and deeply.


Adverse effects :
Field trials to date have not exposed specific contraindications of Ambroxol Hydrochloride. Nevertheless, carefulness is recommended for patients with gastric ulcer, and utilization during the first time period of pregnancy.
Other symptoms of side effects are listed below :


Diarrhea
Allergic Reaction; red, itchy skin, facial swelling, shortness of breath, swallowing difficulties.